Dead Horse Ranch, Cottonwood - Fellowship Adventures Hike
Starts:
May 12
8:30 am
Ends:
May 12
12:00 pm
Event Description:
Where
Load up your family and friends and make your way to Dead Horse Ranch State Park for Fellowship Adventures May event. Dead Horse Ranch is situated alongside the Verde River Greenway State Natural Area, and its diverse terrain provides a wide variety of habitat for wildlife and nature. No matter what your hiking group, you are sure to have great scenery. The 90-minute drive (or carpool!) is worth the drive. Dead Horse Ranch is near Cottonwood and you can check out the park at this link.
When
Groups will start hiking at 8:30 AM and everyone should be done by noon. We will begin our hikes from trailheads within the park. (See park map.) Please plan on being at the registration tables by 8:00 AM so you can be assigned to your group and we can start hiking as soon as possible.
Picnic

After the hike, hang around and enjoy a picnic lunch with your Fellowship Adventures friends! Hog Wild Barbeque, a local BBQ restaurant, has agreed to take orders and deliver lunch right to our picnic site! The Fellowship Adventures Organizing Committee's "professional food tasters" give it two thumbs up so you won't want to miss out on this treat! You have your choice of a smoked pulled pork, beef brisket, or pulled chicken sandwich, and it comes with a choice of coleslaw, potato salad, or baked beans and a bottled water - all for just $7.50 (tax included). Simply give them a call at (928) 639-3232 before 6:00 PM on Friday, May 11th and let them know you're part of the Fellowship Adventures group on May 12th. Place your order (and pay for it!) and they will deliver all orders to the picnic area at noon. (Feel free to bring your own lunch if you prefer, but this stuff is finger lik'n good!)
Other Park Attractions
Enjoy a leisurely horseback ride around the park. Visit the Trail Horse Adventures website for more details.
Bring your fishing rod, tackle box and cast your line in the lagoons or Verde River.
A valid Arizona fishing license is required for anglers fourteen and older. Licensing information is available online at Arizona Game & Fish, or purchase a fishing license at a local dealer.
Location/Directions
Take I-17 north to AZ-260 (Exit 287). Turn left onto AZ-260 toward Cottonwood for about 12.5 miles. Turn left on S Main St (AZ-260/AZ-89Alt). After 2 miles, turn right onto N 10th St and continue on to Dead Horse Ranch State Park. Follow the Fellowship Adventures signs to the registration area.
Click here to get detailed directions from Calvary Community Church.
Carpooling
There is plenty of parking in the immediate event staging area, but we encourage carpooling. You can sign up for carpooling during the registration process. For details on how carpooling works, see the Carpooling section of the "Things to Know" page.
Carpools will meet at Calvary central campus (west side by the mail boxes) – last carpool leaves at 6:30 AM.
Cost
Park entrance fee: $7 per car
Hiking
This hike will include 4 levels of hiking. You will sign up for a level when registering. The levels are listed below, or see levels of difficulty for more details.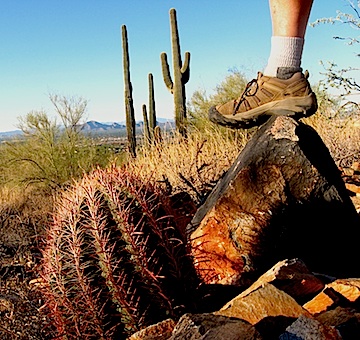 Roadrunners – For the serious, go-fast hiker who desires the challenge of speed and distance (7 to 10 miles) and prefers to race past the sagebrush rather than smell it!
Coyotes – For the recreational hiker who desires energetic physical activity (4 to 7 miles) and the opportunity to stop and smell the sagebrush.
Prairie Dogs – For the casual hiker and families who want to get some exercise (about 3 miles) but will stop to enjoy the view and rest as they hike.
Geckos – For the person or family new to hiking or just coming back from a long time away. They will do about 2 miles of relatively flat trail.
Children
Children are more then welcome to join this event, but please read the Children section of the "Things to Know" page before you come.
Roadrunners - minimum age of 15*, if experienced
Coyotes - minimum age of 10*, if experienced
Prairie Dogs & Geckos - minimum age of 6*, unless you are going to carry them
* If you are bringing a child under the age of 18 for whom you are not the parent or legal guardian, a Medical Waiver/Consent Form must be completed, signed by a parent or legal guardian and presented at the check-in prior to the event.
Pets
Dogs are welcome on all except the Roadrunner hike. Remember to consider the heat before bringing Fido and please read the Pets section of the "Things to Know" page.
Ministry:
Fellowship Adventures, Hike